It's our first summer back in San Diego!
I moved back down at the beginning of the year when our new home was finished and had the pleasure of spending the first 3 months private cheffing for a CEO who wanted to lose 40 pounds. But my husband was stuck going back and forth from Washington until his job finished up, and has only recently joined me full time. So this summer is a celebration of sorts – a time to reconnect with old friends… and new restaurants!  So far, this is what my summer 2013 looks like  – these delightful items are helping make my season more delicious and memorable. What are you lovin' this summer?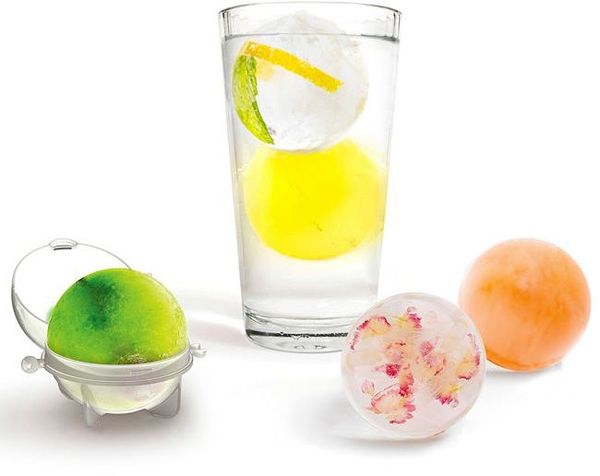 These genius orbs by Prepara become vessels for all things summer and will enamor your guests [and yourselves]. Fill them with fresh herbs, citrus slices, flowers, berries… the possibilities are limitless. I make them in advance anytime I have a lime about to pass its prime so I'll have them available to pop right into a gin & tonic. Their generous size is optimal for just one per glass and cools your beverage for… longer than it will take you to enjoy it.
Acme Party Box Company's classic French market tote is made from woven palm leaf and has both long and short leather straps for easy carrying.  It's generous size is perfect for the farmer's market or to pack up a picnic for an outdoor concert or baseball game. I love it and will be dragging it all over town this summer!
Jane Coxwell's new cookbook Fresh Happy Tasty does indeed make me happy! It hits on so many important elements and is right in line with the way I'm eating right now. Fresh, bright ingredients + Jane's global perspective = my perfect summer beach read [novel schnovel]. And after I've read it from cover to cover, I'm going to kick things off with her recipe for brie, grape and arugula salad, and then move on to the beef tagliata with chopped arugula and basil salad…
I don't have a problem getting in the daily fruit requirements recommended for optimal health, but veggies – not so much.  For me, the green stuff often comes by way of fresh juice. Suja Juice has freed up my time and simplified my life by keeping my kitchen free of the heaps of veggies and the equipment necessary for home juicing. Suja is raw, organic, and cold pressed using a pressurized method in packaging which allows it to retain all the valuable nutrients – and is made right here in San Diego!  Luckily, they now have national distribution so they can be enjoyed elsewhere – they'll even deliver right to your door. My personal faves: Fiji + Green Supreme.
There are so many reasons to embrace this smart looking new grill by Fuego – I didn't want some massive unit taking over my entire patio space, for starters.  This modern take on home grilling comes in a variety of colors and offers both fashion and function. Why not? [This grill has been out for a few years, but they've worked out some major bugs with this more recent generation!]
Portable and chic, this wine canteen re-imagined is your new ticket to adult hydration! Everything I love about S'well's original water bottle, now comes in a larger size and holds a 750 ml bottle of your favorite wine  – and will keep it chilled to icy goodness for up to 24 hours to withstand a summers day at the beach.
I was thrilled to have this line of Q mixers in my shop and continue to enjoy its light flavor and the fact that it's sweetened entirely with agave.  Nothing says summer like a refreshing gin & tonic – and I like to keep my cocktails sugar free – it means I can indulge without getting the Sunday morning flu….
Pimm's Cup aficionados – give their Q-Ginger a taste!
When it comes to sun protection, I don't mess around. I've used SkinCeuticals exclusively now for many years. It's not that I don't believe in mixing skincare lines, it's that nothing out there can rival it's science and results. I rely on their sunscreen year round and wouldn't so much as step out to retrieve the mail without it on.